If you are a manager, leader or a start-up owner, the best way to effectively convey your point is by creating a captivating PowerPoint presentation. The higher the quality of your presentation, the better you will be able to convince your audience- be it your boss or your investor- of your ideas.
There are many PowerPoint presentation templates out there that can be used for different purposes. One of the most important templates that you can use in your presentation is the curved roadmap template.
There are different types of roadmap for business templates: curved roadmap, horizontal roadmap, and flat roadmap. These templates can be used in a variety of situations. You can use it to show progress from one point to another (e.g. the tasks completed or revenue earned over the course of 5 months). You can also use it to show milestones or sub-tasks for a project and the deadline by which they should be completed.
If you are interested in learning about the best free roadmap templates for your organization, read along! Here, we talk about the templates offered by SlideVilla, which are some of the best out there.
This free horizontal roadmap template is perfect for showing progress, milestones or a timeline. It can be used by business leaders or start-up owners to diagrammatically represent the goals that they have set for the company. This curved roadmap can also be used to show the growth that has occurred in your organization over a period of time.
The image of a road is especially effective for this purpose, as it conveys a sense of journey. Hence, you can use this slide as a tool for storytelling- you can narrate a story about the journey that you and your colleagues, employees and employers took together in completing a project.
2. Roadmap PowerPoint Template
This is another curved roadmap template that is especially popular among those working in the finance industry. It is perfect for talking about upward trends (and even downward trends, as you can change the direction of the arrow). For example, you could use this business roadmap to show information about the stock market.
If you want to highlight specific points in a particular trend, this roadmap allows you to do that perfectly.
Moreover, if you have a specific plan for growth, you can use this template to highlight the important features of that plan.
3. 8 Steps Roadmap with Arrows for PowerPoint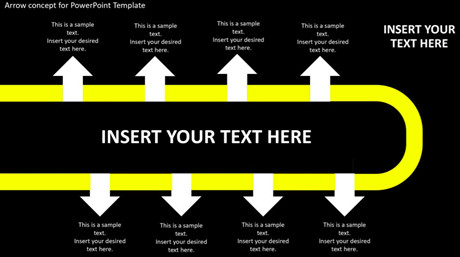 8 Steps Roadmap is a curved roadmap template that is designed in a compact manner that allows you to convey the most amount of information. It is perfect for talking about a step-by-step plan, the 8 milestones to achieve within a deadline, and the different stages of development for a particular product or company.
You can insert text above or below the arrows to talk about the details of your plan. Insert the title in the middle to concisely convey what this slide is going to be about.
This creative roadmap also captures and holds the audience's attention as there is a contrast between black and yellow. You can further improve the visual quality of the slide using icons. For example, you can use a different icon for each of the 8 steps.
4. Simple Quarterly Roadmap Timeline for PowerPoint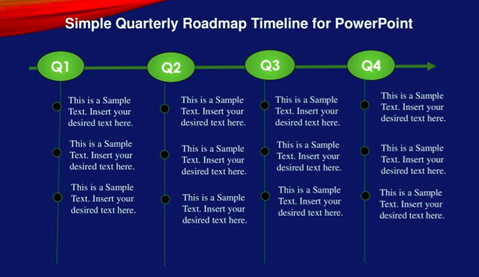 As the name suggests, this flat roadmap template is highly practical and allows you to convey information about quarters. Hence, it is perfect for quarterly business presentations that talk about the targets or revenue for that quarter.
You can also divide a year-long project into quarters and write about what you want to achieve in each quarter.
The rightward arrow conveys a sense of progression over time, which makes it easy to show developments and improvements using this roadmap.
5. Timeline Roadmap Milestone PowerPoint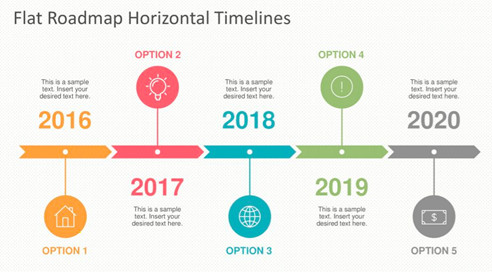 The timeline roadmap template is highly popular for providing information about different time periods. For instance, you can talk about the highlights of each year or month. You can also show how the organization or project is advancing over time.
This flat roadmap template comes with specific icons for each type of activity. For example, if you're talking about money, you will get to use icons showing a currency note. These colorful icons allow you to create engaging and visually appealing presentations.
6. Overlapped Sections Roadmap PowerPoint Timeline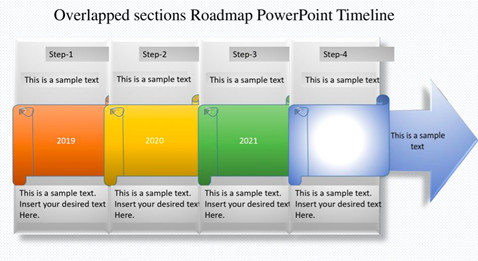 If you would like to show a step-by-step plan, you can use the Overlapped Sections Roadmap. This is a highly creative roadmap template, with each section created using the image of a scroll.
It is compact as a lot of information about the steps can be conveyed in a single slide. The visual appeal of the roadmap slide makes it easy for your audience to read the information.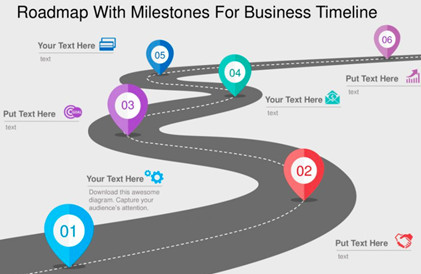 This is an especially creative roadmap for business template. It is most commonly used to mention the milestones that need to be accomplished in the future. It can also be used for talking about a step-by-step process.
The road is wider at the start, so you can be more descriptive about the first few steps to take (steps 1-3) and only briefly talk about the last few steps (steps 4-6).
The markers on the road are colorful- you can use a different colored marker for each step. To make your slide even more attractive and eye-catching, you can add icons that represent what you're talking about. For example, if one of your steps is to meet a new client, you can just add the icon of a handshake.
Another advantageous feature of all of these free roadmap templates is the fact that they are highly customizable and compatible with both PowerPoint and Google Slides. Roadmap templates can be used by anyone to convey a journey: a progression, plan or timeline. These are just some of the creative roadmap templates for your business that you can find on SlideVilla. Check out the links provided under each image to download these attractive templates!