Sick and tired of explaining your work and design ideas with a detailed prototype and the fear of it getting rejected or misinterpreted. The Mood Board can help you out. Open Slidevilla to use exciting and useful templates. Let's see what Mood Boards are and how they can help you save your time and efforts.
What is a Mood Board?
The mood board is a board of pictures, colors, patterns, and words. It's a physical or digital collage. The mood board is a visual communicator of ideas and concepts that intends to set the mood and the vibe of the project. Thus, it is not too detailed but well-thought-out.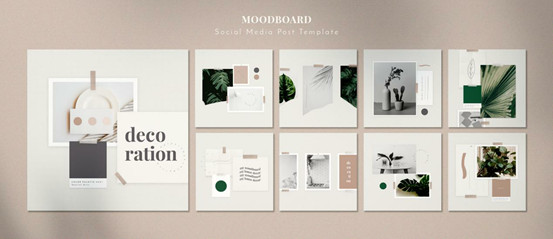 Mood boards, mostly used by graphic designers, interior designers, and costume designers. But, they can also be used to define your business identity. Mood boards help the users and the client to understand what the end product will be. Explaining visuals into words and diagrams may be a tough job. But, presenting those visuals with appropriate images, texts, and themes can communicate the very base of the project.
Why should you use a mood board?
You have a vision in your mind. Let's say you know what you want to create and but lacks clarity in color palette and theme. Mood boards can help to bring them into focus.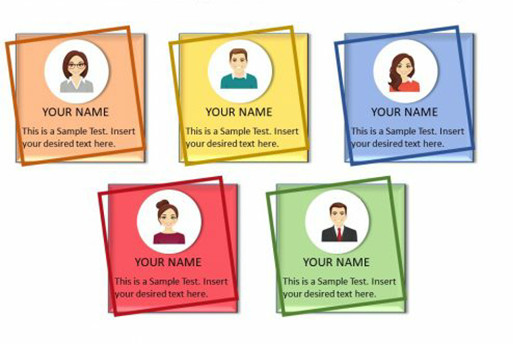 Image source: https://slidevilla.com/
Serve as framework
When you are embarking on a new project, a mood board can serve as a tracker and will avoid wandering in a sea of possibilities. Human beings learn the most from visual sensors. A well-made mood board can help the users of it to absorb the most out of it. And it also set a planned path to be followed by the team.
2. Easy to collaborate
Mood boards allow you to collaborate easily with your clients and reduce design time. An adage goes like "because every picture tells a story" is relevant to a mood board as it has to be able to explain the core and the end results of the task or activity to the clients. A mood board checks the coordination and collaboration at every stage of the work.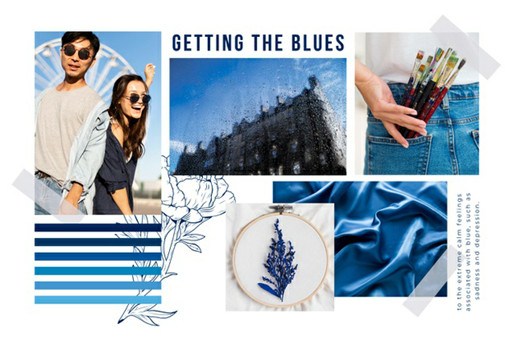 3. Time-saving
Previously, when digital mood boards were not in the trend, designers have to spend a lot of time and effort in creating a prototype of the work. And if it doesn't meet the client's expectation, then it results in wastage of resources. But with mood boards, you can easily create any proposals or ideas in a short duration and cover almost every aspect.
4. They are portable and fluids
The digital mood boards are portable. Just save it to your cloud, and you'll carry it almost everywhere. But it always doesn't have to be in a digital format. One of the features is fluidity, which provides it to take settle in any template.
What does a mood board include?
Every mood board is prepared to serve a particular need. Thus, every mood board is different from one another. It should include the elements to serve the purpose of the business.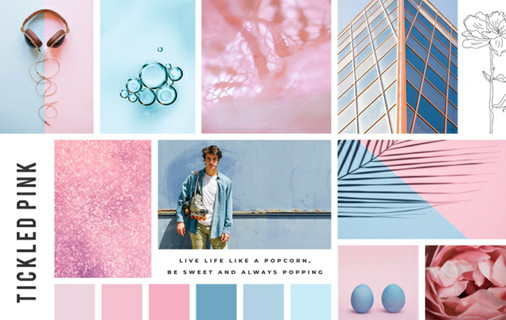 An ideal mood board should have these following elements:
Images: these are the souls of a mood board. It is blurring to imagine a mood board without images. The only thing you should pay attention to is that the image should relate to your ideas.
Words: to communicate your insights clearly, you will need texts. The texts on the board adhere to the meaning it has to convey.
Colors: incorporating the images with the color palette can create a lasting impact on both the clients and the team. It helps to create a balance in the mood board.
Textures: a texture or a pattern is not like a necessity. But it helps in highlighting the mood board.
How to create your own mood board?
The Mood board, also known as the inspiration boards. The reason behind calling it inspiration board is that a mood board, created with the insight and ideas of your mind. It doesn't have to be in a concrete form. You can edit and change as it suits your purpose.
To get started with the mood board, you need inspiration. Once you get it, you will only have to frame it. Let's look at the step by step making of a mood board:
Bring clarity to your design idea
Mood boards are of different categories. They can be either thematic and practical (colors, images, and fonts make it self-explanatory) or focusing more on the tone and mood of the project. You have to figure out your idea falls into which category the best. Be clear of what you want to achieve from creating a mood board and then set on planning the whole process.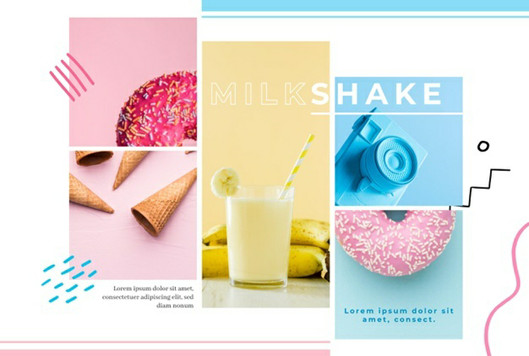 A mood board with perfectly balanced colors, words, and pictures to showcase the treats.
2. Collect your Elements
Select the elements your mood board will include that will present your work the best. The images, colors, and fonts should be relevant to your work and not outside of it. Don't make use of elements which doesn't express your ideas.
3. Getting organized
Often people have great ideas and collections but still fail to present the essence of the work. After collecting the elements, you are going to need in the mood board, you should organize them. Make a rough outline and arrange everything on the board and try out different styles.
4. Add written elements
Having images without words can convey different meanings to different parties. To provide an elaborative and enhancing description of your work, accompany the visuals with words.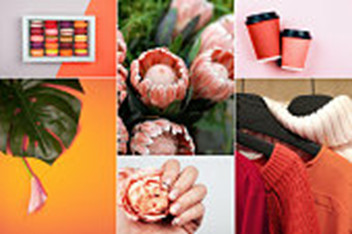 A mood board without text can be complicated to understand.
5. Pay attention to composition, hierarchy, and scaling
You got everything by now. It's time to arrange your puzzle into a final picture. Start with scaling, and placing a logo can do good to improve your business image. This step is an important one as it molds everything into the end result. Pay attention to every little detail.
6. Experiment
Once you reunite with clarity, let it lubricate with high-level direction. A mood board is all about exploration and experiment. It's vital to have an open mind while preparing a mood board. There are many templates available on Slidevilla and you can also create your own with colors, gradient, and themes.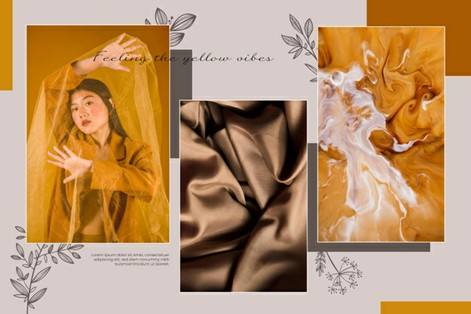 Mood board showcasing creativity. The basics are to do it yourself to have "an awesome mood board."
7. And you're done!
You'll have a perfect mood board by now. But don't limit yourself. You can create more than one mood board for the same work and give it different themes. The ultimate thing to create a great mood board is creativity. You can use a clean, minimalist, and modern mood board as per your need and liking.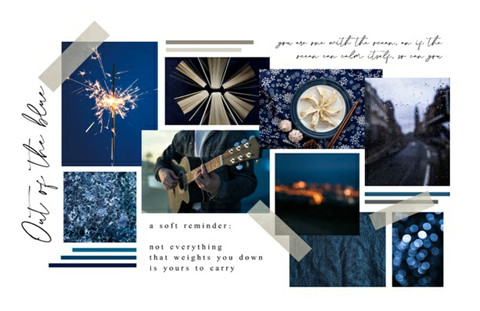 One of the major advantages of the mood board is that there are no definite rules of how a mood board should look. Designing a mood board is a work of creativity and worth it. Mood boards are the great boosters for your project and lead your project to run smoothly.